Getting a Dog From Winsome
Winsome is a small kennel and we don't breed too often.  We always try our best to match puppy to family in order for everyone to have the best chance to succeed.  We do not take reservations for our puppies and we do not keep a formal waitlist until we have puppies born. 
We occasionally will have an adult silken who is looking for the perfect home and he/she will be posted below.
Keep an eye out on the News and Our Litters pages for litter announcements since this is where we will post confirmed litters. Please reach out using our Contact Us page if there is a litter that interests you or if you want to discuss our breeding program.
Currently, we do not have any puppies available.  We are hoping to breed a couple of litters in 2022; but it all depends on when the dam comes into season and if the breeding is successful.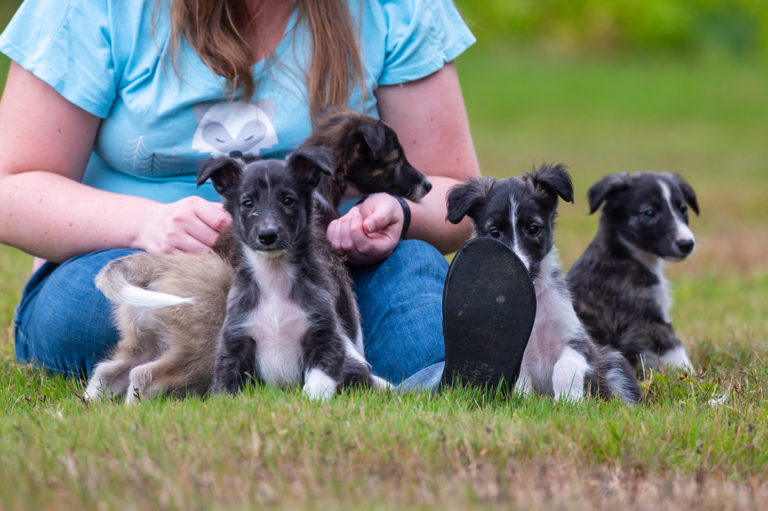 We have one adult available to the perfect home. Tavi is a 6 year old neutered male. He is on the larger side, being above the Silken standard, but he thinks he is small and likes to cuddle up. We raced him (for enjoyment) until 2018; but it became clear that he no longer enjoyed the sport, so we stopped bringing him. He loves to run in an open field or on an empty beach; but competitive sports are not for him.
Tavi would not do well in an apartment or big city setting. He needs to have his own space and yard to enjoy. Close encounters with other dogs can cause him anxiety.
He would be best in a home that is familiar with challenging dogs and has worked with them before. We hope that he can stay in the area so that we are around to offer support if needed.
Tavi loves people and enjoys spending time with his family. However, he needs a quiet home environment. Too much activity results in him getting overly wound up and he has a hard time settling down. He wants to go out and do things; but it all has to be managed.
He would do best as the only dog in the household. Though he is able to live in our house with multiple Silkens, he would thrive in a home where he is the focus. He can react poorly to other dogs; so he needs a family who can help him make the right choices when it concerns meeting others. He was raised with a cat and did will with him.
Tavi wants to please his family and does best when they have time to focus on him and work through his worries. We love him very much and he is probably our most affectionate dog; but our life has become too variable for him. We go to dog events, travel, and occasionally bring new dogs to the house, which he has a hard time adjusting to. He adores car rides; but does not always enjoy getting out, preferring to stay in the reliable comfort of the vehicle.
We want him to be happy and feel that this means he needs to go to a new home where he is always comfortable and happy. If you feel like Tavi might be a fit for your home or want to learn more, please use our Contact Us page to send an inquiry.