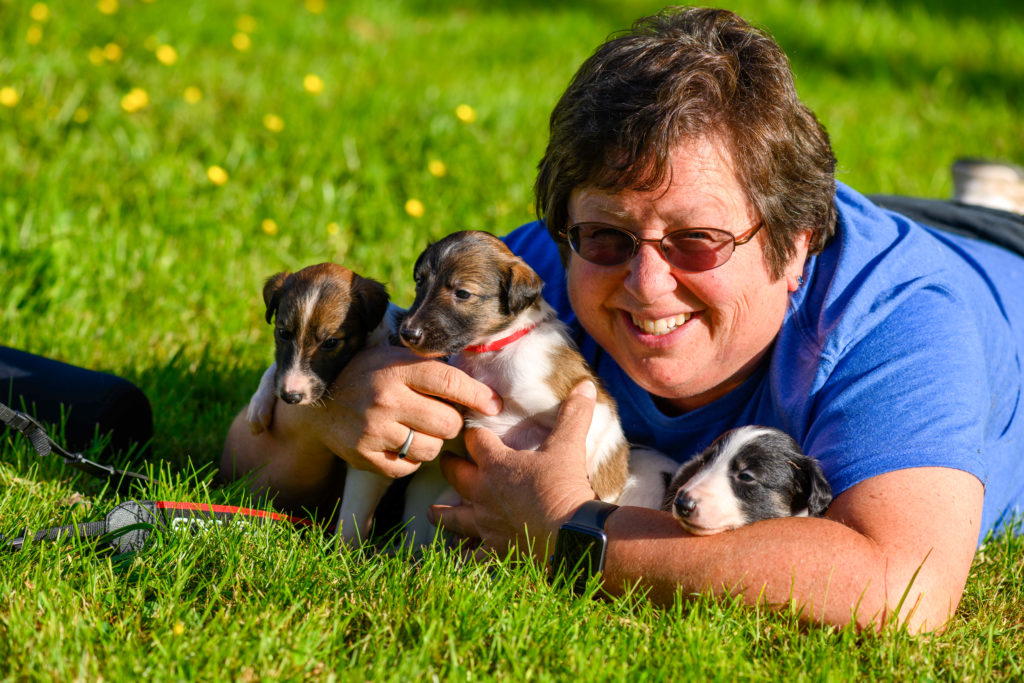 The first few months of a puppy's life are critical to their social development.  We are committed to providing experiences that support our goals for every puppy.  By 2-3 months we want each puppy to be confident and interactive, have basic house manners, always come to "puppy, puppy, puppy", and to be thrilled to play tug or chase the lure.
In choosing to breed a litter, temperament of both parents is a key factor in our decision.  However, great temperaments can do nothing but improve when attention is paid early in life to nurturing what is genetically there.
Our puppies are raised totally in the house.  The whelping box is in the draft free office where Iola, and visitors, spend time cuddling the puppies.  Someone is there often, and can interact anytime they wake up to start playing with each other.  We want them to see us as just another playmate.  Visitors, which are regular, squish into my office, sit in the pen and handle all the puppies too.  We laugh, we clap, we give kisses and even get some back.
At 5 weeks they move to the living room, we put up a large exercise pen in the middle of all the noise, vacuuming, TV, and people in and out. Their pen is about 20' from the door to an outside covered deck that leads to a large fenced yard. Even at 5 weeks, pups go down the deck with me and out to the yard the minute they wake up.  Inside play is supervised so everything is left on tables, shelves, etc. and they quickly learn that my things are not theirs to play with.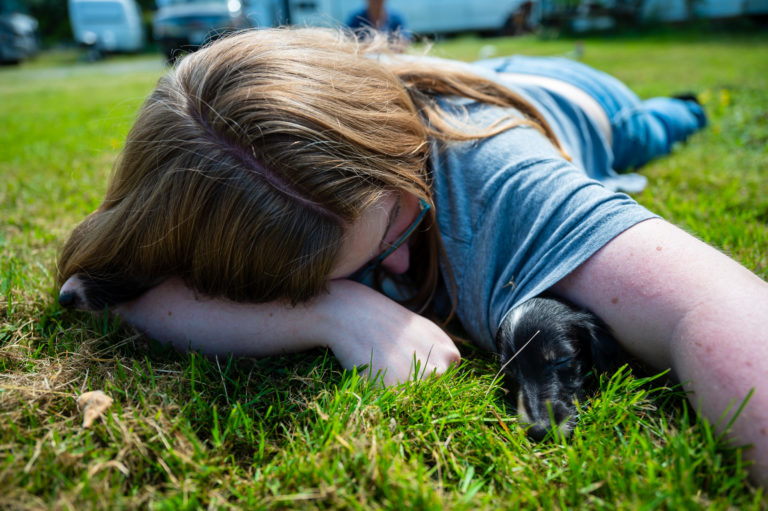 We want puppies to feel secure and safe in crates, whether at home, in the car, or in strange places.  Puppies that might show or go to performance events later do learn to relax and sleep in crates even with commotion.  Those going to pet homes will have times when they can't be supervised.  We always recommend crates to pet owners to keep the accidents and damage from chewing to a minimum.  We keep at least one fiberglass crate in the exercise pen with the doors are taken off.  They seek those out to sleep in and pile themselves in as tight as possible.  When we start car rides, we find that feeling content in a crate helps them adjust to the car and eliminates worry, motion sickness, and crying.
By 8 weeks most are sleeping in a crate at night by themselves and most put themselves to bed without an invitation when they are tired.  They meet a lot of people and children.  Iola is lucky to live semi-rural where feed stores and pet stores abound.  Puppies are exposed to chickens and horses and we have several friends with children.  We purposely schedule puppy get togethers often.
We like to start with fun "stuff" as early as 8 weeks at home individually.  For example, put small boxes all over the room or yard.  Some have treats, some don't and encourage pups to keep looking in every one.  Or, make an obstacle course.  Pups can walk through the rungs of a ladder on the ground to become more agile, and walk up ramps onto platforms.  In one puppy class Iola, learned to use large exercise balls that, with help, the pups learn to stand on and balance.  As time goes on, we ask for a sit and even a down.  This just builds trust in coping with new things and trying what we ask them to do.  We introduce agility objects like a small tunnel, A frame, tiny jumps.  In other words, the puppies are taught to think and be interactive with people while learning to to be successful.  They actually show such pride in themselves after these kinds of learning opportunities.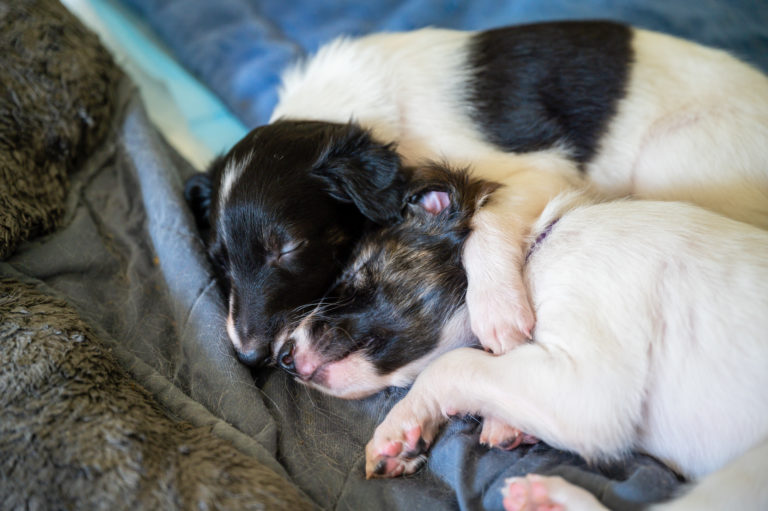 We love a puppy that looks people directly in the eye even when littermates are running around playing.  We strive to be as interesting as their siblings.  Creating and retaining food drive is a key to positive-reinforcement, so treats abound.  Anytime a puppy is called and comes running, they get a treat.  If we grow puppies up longer than the usual time, treats continue when they have the run of my whole property.  This helps instill a future consistent recall.
We are lucky to have race practices in the area and we often practice short runs at home. We start taking the puppies very early and from the vantage point of an exercise pen the puppies are exposed to the excitement, and watching is great exposure.  Back at home chasing a squawker is not only fun and engaging, but teaches them to focus on the lure and compete.
Our goal is to breed exceptional temperaments, in healthy, high quality pups.  To prepare pups for the show ring, we practice in a "ring" at home.  This gets puppies used to dogs moving in front and behind them, going all by themselves down and back, having a "judge" bend over and touch everything.  We keep the time short as this activity can be boring and tiring.  We also put my puppies on a table a couple times a week starting at 5-weeks old.  Personally, we don't stack them in the beginning.  They just stand up there and get treats.  They also do it briefly with their siblings running around below them playing.  Just short 1-on-1 time with distractions.  As they age, we start setting front feet, later the rear.  Then we start asking for a little more time watching me and paying attention, and standing properly balanced and looking expectantly for the treats they so deserve. 
When Winsome-raised puppies leave for their new homes, we hope they are ready to greet the world and have the world love them back.  We want them to be happy in a crate by themselves, go outside to do business, wait for every opportunity to come running for interaction time, and have a few basic commands – sit, wait, stand, and certainly "come here".  We are dedicated to providing pups the individual time needed for each one to live up to our expectations.